Queen actress Kangana Ranaut, also known for talking trash on Twitter has compared herself to other celebrities many times. Be it acting or her career, or even her appearance in a certain film, Kangana never takes a step back when it comes to comparison. From comparing herself to Gal Gadot to SRK here are some of her embarrassing tweets that might make your day.
Kangana Compared herself to Sridevi?
On the 10th anniversary of 'Tanu Weds Manu', Kangana took to her Twitter and said she was the only actress to do comedy after Sridevi. Comparing her characters Rani And Datto from the movies Queen and Tanu Weds Manu respectively. She quoted "I was stuck in edgy/neurotic roles, this film changed the trajectory of my career, was my entry into mainstream that too with comedy, with Queen and Datto I strengthened my comic timing and became the only actress after legendary Sridevi ji to do comedy"

Kangana made headlines for comparing herself to Meryl Streep and Gal Gadot.
While sharing a still from her upcoming movies, she talks about her versatility and compares it to Oscar-winning actress Merryl Streep and Wonder Woman star Gal Gadot's versatility. In the tweet, she wrote, "I have raw talent like Meryl Streep for layered character depictions but I can also do skilled action and glamour like Gal Gadot". When fans called her out for comparing herself to Meryl Streep, she asked why does Meryl, an American actress, not have any Padma awards?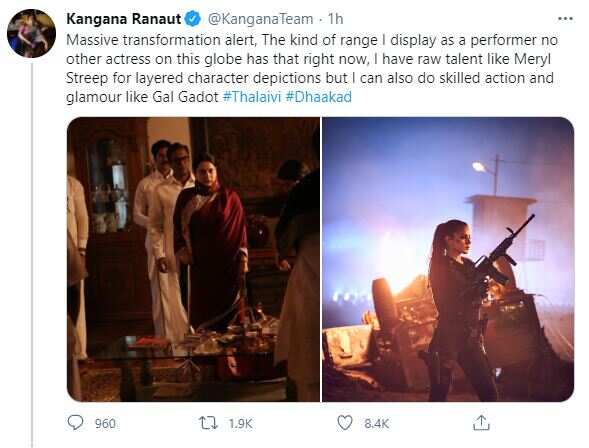 Kangana-Tom Cruise comparison.
While defending her ability to do stunts, Kangana once tweeted that Hollywood Action Director once told her she was better than tom Cruise when it come to action. Hollywood action Director who has previously worked with Tom Cruise several times worked with Kangan on Manikarnika. he rtweet was "Dekho renowned action director of Brave heart [sic] and many legendary Hollywood action films said I am better than Tom Cruise when it comes to action … Hahahahaha bechare librus aur tadpo."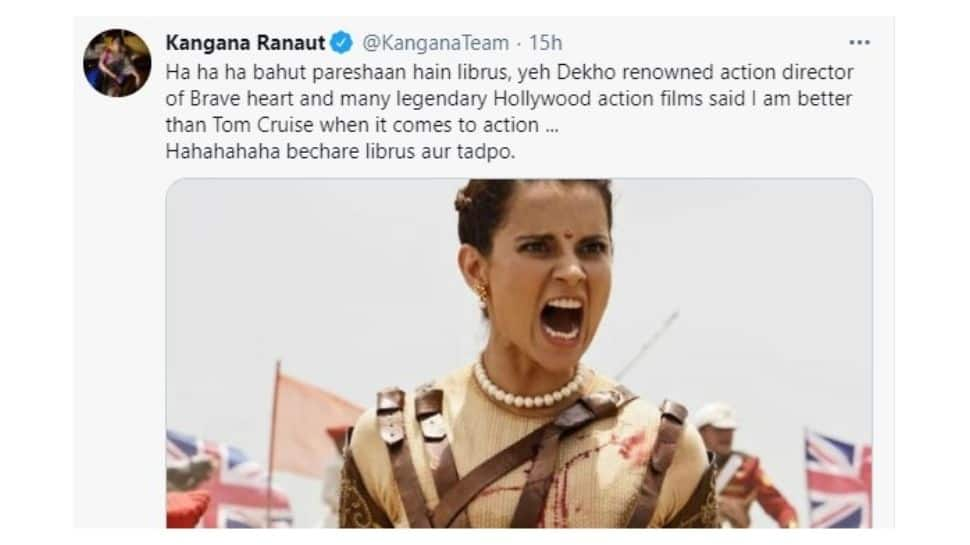 Kangana snubbed an award like Marlon Brando.

Kangana tweeted about how she snubbed an award comparing it to late legendary actress Marlon Brando, she tweeted, "They are the invaders in native red Indians land I am a native Indian who wants to protect my land,of course I won't reflect her sentiments, that way I am more like Marlon Brando,now it will rattle you more, as a matter of fact I snubbed Filmfare just how Brando snubbed Oscars"

SRK and Kangana's struggle are same?
Kangana has once again compared herself to other celebrity but this time she compared herself to the biggest actor in India Shah Rukh Khan. On the completion of 15 years after the release of her film Ganster, she compared her struggle to SRK but somehow managed to say she that her success story is bigger than Shah Rukh Khan. She quoted, "15 years ago Gangster released today, Shahrukh Khan ji and mine are the biggest success stories ever but SRK was from Delhi, convent educated and his parents were involved in films. I did not know a single word of English, no education, came from a remote village of HP and every step was a battle starting with my own father and grandfather, who made my life miserable, and yet 15 years later after so much success still every day is a fight for survival but totally worth it."