Artificial Intelligence Technology Solutions, Inc.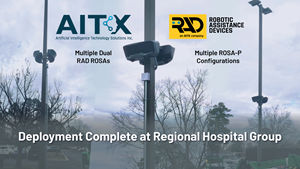 Detroit, Michigan, March 10, 2023 (GLOBE NEWSWIRE) — Artificial Intelligence Technology Solutions, Inc., (the "Company") (OTCPK:AITX), a global leader in AI-driven security and productivity solutions for enterprise clients along with its wholly owned subsidiary, Robotic Assistance Devices, Inc. (RAD), today announced the successful deployment of multiple ROSA security robots. The end-user for this deployment is a large regional hospital group that is part of a health group with over 600 locations. This order was facilitated through one of the Company's largest dealers.
Eight ROSA units comprising this phase of the deployment have been configured as dual-unit ROSA-P devices in addition to one standard ROSA. ROSA-P is one of the recent additions to the ROSA lineup that uses existing light poles as its primary power source whether or not the light is centrally controlled.
The critical feature of this deployment is the inclusion of the RAD Light My Way platform. This unique patent-pending solution was the basis for the client's purchase decision. Parking lots are the third most common place for assaults, abductions, and homicides, according to recent FBI data. A survey by the International Association for Healthcare Security and Safety group found that nearly 70% of armed robberies and 56% of rape incidents of health care workers occurred in parking and adjacent areas.
"This is by far the most meaningful and personally satisfying of our hundreds of deployments," said Steve Reinharz, CEO of AITX and RAD. "While speaking with administrators at another healthcare facility years ago the idea for RAD Light My Way was born. The nursing staff at that facility expressed their unease about walking alone to and from their cars during night shifts. This deployment is evidence that the idea had merit, and can provide much needed peace of mind, while improving security for these essential workers."
Reinharz added, "I have never seen security and facility professionals this excited, and so grateful for a solution to their problems. Soon thousands of the hospital's staff will be enrolled in RAD Light My Way, making this RAD's largest deployment to date."
ROSA is a multiple award-winning, compact, self-contained, portable, security and communication solution that can be deployed in about 15 minutes. Like other RAD solutions, it only requires power as it includes all necessary communications hardware. ROSA's AI-driven security analytics include human, firearm, vehicle detection, license plate recognition, responsive digital signage and audio messaging, and complete integration with RAD's software suite notification and autonomous response library. Two-way communication is optimized for cellular, including live video from ROSA's dual high-resolution, full-color, always-on cameras. RAD has published three Case Studies detailing how ROSA has helped eliminate instances of theft, trespassing and loitering at car rental locations and construction sites across the country.
RAD Light My Way has been named the recipient of two Secure Campus 2022 Awards from Campus Security & Life Safety Magazine. In October 2021 RAD Light My Way along with RAD's ROSA won CBRE's 2021 Best Workplace Experience Solution Award.
AITX, through its subsidiary, Robotic Assistance Devices, Inc. (RAD), is redefining the $25 billion (US) security and guarding services industry through its broad lineup of innovative, AI-driven Solutions-as-a-Service business model. RAD solutions are specifically designed to provide a cost savings to businesses of between 35%-80% when compared to the industry's existing and costly manned security guarding and monitoring model. RAD delivers this tremendous costs savings via a suite of stationary and mobile robotic solutions that complement, and at times, directly replace the need for human personnel in environments better suited for machines. All RAD technologies, AI-based analytics and software platforms are developed in-house. 
RAD has a prospective sales pipeline of over 35 Fortune 500 companies and numerous other client opportunities. RAD expects to continue to attract new business as it converts its existing sales opportunities into deployed clients generating a recurring revenue stream. Each Fortune 500 client has the potential of making numerous reorders over time.
CAUTIONARY DISCLOSURE ABOUT FORWARD-LOOKING STATEMENTS
The information contained in this publication does not constitute an offer to sell or solicit an offer to buy securities of Artificial Intelligence Technology Solutions, Inc. (the "Company"). This publication contains forward-looking statements, which are not guarantees of future performance and may involve subjective judgment and analysis. The information provided herein is believed to be accurate and reliable, however the Company makes no representations or warranties, expressed or implied, as to its accuracy or completeness. The Company has no obligation to provide the recipient with additional updated information. No information in this publication should be interpreted as any indication whatsoever of the Company's future revenues, results of operations, or stock price.
About Artificial Intelligence Technology Solutions (AITX)
AITX is an innovator in the delivery of artificial intelligence-based solutions that empower organizations to gain new insight, solve complex challenges and fuel new business ideas. Through its next-generation robotic product offerings, AITX's RAD, RAD-M and RAD-G companies help organizations streamline operations, increase ROI, and strengthen business. AITX technology improves the simplicity and economics of patrolling and guard services and allows experienced personnel to focus on more strategic tasks. Customers augment the capabilities of existing staffs and gain higher levels of situational awareness, all at drastically reduced cost. AITX solutions are well suited for use in multiple industries such as enterprises, government, transportation, critical infrastructure, education, and healthcare. To learn more, visit www.aitx.ai, www.stevereinharz.com, www.radsecurity.com, www.radgroup.ai, and www.radlightmyway.com, or follow Steve Reinharz on Twitter @SteveReinharz.
###
Steve Reinharz
949-636-7060
@SteveReinharz
Attachment
Artificial Intelligence Technology Solutions, Inc.

Disclaimer: The above press release comes to you under an arrangement with GlobeNewswire. IndiaChron.com takes no editorial responsibility for the same.