Michael Garet and David Osher named 2023 Fellows by the American Education Research Association
2023 AERA Fellows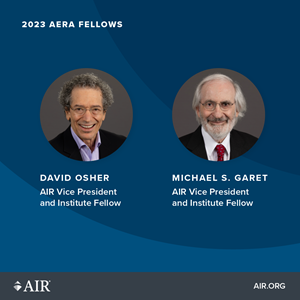 Arlington, Va., March 08, 2023 (GLOBE NEWSWIRE) — Two experts from the American Institutes for Research (AIR) are being recognized by their peers for their excellence in and contributions to education research. Michael Garet and David Osher have been selected as American Educational Research Association (AERA) Fellows, joining 22 other scholars and experts from around the country to receive this honor.
AERA is the largest national interdisciplinary research association devoted to the scientific study of education and learning. AERA Fellows are nominated by their peers, selected by the AERA Fellows Committee, and approved by the AERA Council, the association's governing body. The 2023 Fellows will be inducted on April 14, 2023, at AERA's Annual Meeting in Chicago.
"We are extremely proud of the contributions that Mike Garet and David Osher have made to AIR and to the education research field, at large," said David Myers, AIR's Chief Executive Officer. "Their work has helped foster a greater understanding of what works in teaching and learning and the conditions that allow students to thrive and grow."
Garet joined AIR in 1994 and has led and contributed to many of the institution's largest research and evaluation projects in education. His work specializes in teacher professional learning and methodological issues in evaluating the impacts of education interventions. He was the lead author of a highly influential paper on the features of professional development, and he has led three large-scale randomized trials testing the impact of content-focused professional development on teachers' instruction and student achievement. He is currently leading or co-leading research projects on networked improvement communities, reading and literacy, and COVID-19 and equity in education.
Osher joined AIR in 1994 and is one of the nation's foremost experts on social and emotional learning, school climate and conditions for learning, the science of learning and development, youth development violence prevention, and school safety. He leads and serves as a senior advisor to a broad range of research, including impact and implementation evaluations of initiatives and programs and systematic reviews. He has also led and advised federally funded centers designed to support the use of evidence-based strategies to create safe, equitable and engaging schools. He has co-authored or edited more than 400 books, chapters, articles and reports, including Creating Safe, Equitable Engaging Schools: A Comprehensive, Evidence-Based Approach to Supporting Students; The Science Of Learning And Development: Enhancing The Lives Of All Young People; and Keeping Students Safe And Helping Them Thrive: A Collaborative Handbook On School Safety, Mental Health, and Wellness.
Once inducted, Garet and Osher will join more than 700 other AERA Fellows, including George Bohrnstedt, AIR senior vice president and Institute Fellow; Michael P. Cohen, principal psychometrician/statistician; and Robert Boruch, a member of the AIR Board of Directors, who were inducted in 2008.
About AIR
Established in 1946, the American Institutes for Research (AIR) is a nonpartisan, not-for-profit organization that conducts behavioral and social science research and delivers technical assistance both domestically and internationally in the areas of education, health and the workforce. AIR's work is driven by its mission to generate and use rigorous evidence that contributes to a better, more equitable world. With headquarters in Arlington, Virginia, AIR has offices across the U.S. and abroad. For more information, visit www.air.org.
Attachment
CONTACT: Dana Tofig American Institutes for Research 202-403-6347 [email protected] 

Disclaimer: The above press release comes to you under an arrangement with GlobeNewswire. IndiaChron.com takes no editorial responsibility for the same.