Ex-Felon Creates Transformational PowHER Retreat for Women to Grow
Kelsea Koenreich takes her inspiring journey on the road.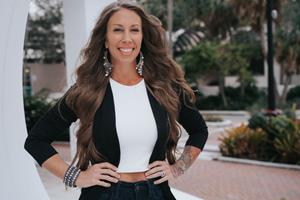 Kelsea Koenreich was recently invited to speak to women who are incarcerated.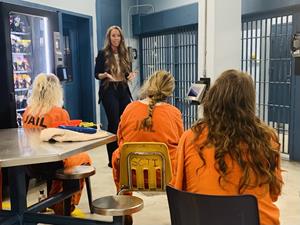 Sarasota, Florida, Feb. 22, 2023 (GLOBE NEWSWIRE) — Author and business mentor Kelsea Koenreich is proud to announce the next PowHER Retreat will be held on Siesta Key, Florida, May 11-14, where women entrepreneurs will learn how to activate their potential, step into their power and live with their true purpose.  
A sought-after speaker, Koenreich helps individuals, businesses and organizations gain new skills that elevate morale, motivate teams and inspire change. However, the Gulf Coast resident did not reach the height of her profession the easy way. Her story is one of resilience.   
"After my third arrest in 2010, I woke up in the Sarasota County Jail," said Koenreich. "In that cell unit with me were two women in there for murder and a flash went off inside my head asking, 'What am I doing?' And then I had a moment of clarity, 'You don't belong here.'"  
Koenreich looked at herself in the mirror and decided to make a change. She took the risk of completely letting go of her identity and rebuilding her life. Hitting rock bottom, Koenreich knew that if she did not change, she would never be happy or live long enough to leave a legacy. After getting out of jail, she sat on her bed in tears, preparing to change everything about her life; her friendships, her conversations, her habits, where she went and how she took care of herself.   
Koenreich did not let her past define her. She got sober after signing herself up for the Sarasota County Drug Court program, which is an intervention program for substance-abusing adults who have committed non-violent felony or misdemeanor crimes. And now, Koenreich is not merely satisfied with preventing others from hitting rock bottom. She has dedicated her life to helping people thrive.   
The Texas native brings a unique perspective and a level of energy to her visually captivating speaking engagements that inspire people to act. She creates an experience for her audiences that is personalized, full of actionable takeaways and focused on Potential. Power. Purpose.   
Examples of Speaking Topics 
FORGING A NEW PATH 
Every company, organization and association have the desire to stand out and make an impact. Being a changemaker and leading differently requires innovation and strategic moves. It also requires overcoming any fear or shame that stands in the way. Koenreich teaches her audience how to no longer be held back by fear.  
UNLEASHING POTENTIAL 
Becoming who you are meant to be requires confidence, learning to believe in oneself and creating habits that contribute towards your bigger vision. Koenreich inspires her audience to see things differently by putting on a new set of lenses that will open possibilities, opportunities, and greater success. She invites you to see what can happen when you are not held back by fear, self-doubt, shame, and perfectionism.   
BECOMING BRAVE 
To lead effectively and create change inside your community, company, and the world around you, courage must become part of who you are. Koenreich teaches how to lead by example to face fear and hardship for bravery that creates deeper connections, elevated communications, and a healthy work culture.  
Additional topics include: The Power of Vulnerability, Time Management and Productivity, Alignment with Your Purpose, Being the CEO of Your Life, Cultivating Trust in Your Teams and Owning Your Story to Fuel Success, Fighting Imposter Syndrome  
ABOUT KELSEA KOENREICH  
Kelsea Koenreich is a powerful speaker and mentor for business owners. She has over 12 years of coaching experience and has been an entrepreneur since 2011. Koenreich has the gift of inspiring others to see their potential, so they live their true purpose. Koenreich lives in Lakewood Ranch with her husband and three children. For more information, please visit Kelsea Koenreich at https://www.kelseakoenreich.com/ or to inquire about a speaking opportunity, go to https://www.kelseakoenreich.com/speaking. 
Attachments
Kelsea Koenreich takes her inspiring journey on the road.
Kelsea Koenreich was recently invited to speak to women who are incarcerated.
CONTACT: Meredith Dropkin Grapevine Communications 941-351-0024 [email protected] 

Disclaimer: The above press release comes to you under an arrangement with GlobeNewswire. IndiaChron.com takes no editorial responsibility for the same.