10 reasons to make a Colorado Ski Country USA ski resort your 2023 Spring Break destination
Spring Break View of Aspen Highlands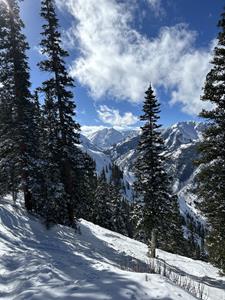 Denver, CO, March 02, 2023 (GLOBE NEWSWIRE) — DenCabo? Crowded. Daytona Deluged. Miami? $20 cocktails… and mobbed. This year, when your friends show off the same old beach pix from their same old spring breaks, you can brandish shots of you carving tracks in a field of pure white snow and sipping fireside cocktails at one of Colorado Ski Country USA's winter wonderlands.
"We love this time of year," says Melanie Mills, CSCUSA president and CEO. "The days are long, sunny and mild. Snow's been falling for two-thirds of the season and regular top ups continue into March and April. All the trails are open, and the resorts really throw their weight into finding unique ways to welcome and entertain all the visitors to our slopes."
Here are the top 10 reasons to travel to a CSCUSA ski area:
Our resorts are closer than you'd think. Durango, in the southwest corner of the state, has two top-notch ski areas within minutes of each other: world-famous Purgatory (close to heaven; fun as hell) and local favorite Hesperus.
You absolutely, positively cannot give up that beach life. Arapahoe Basin (known to locals as A-Basin) has you covered. The Beach is a ski-in, ski-out tailgate at the base of the mountain. And if you wanna wear your swimsuit? At 11,000' elevation, you're that much closer to the sun. Just sayin'… pack your sunscreen to avoid that lobster look.
You're tired of making decisions.  Steamboat Springs boasts Steamboat Resort, with its 171 trails, 4 terrain parks, and over 400 inches-and-counting of snow this season, and Howelsen Hill, Colorado's oldest, continuously operated ski area. They've been schussing down Howelsen since 1915, and it has the look and feel of a classic Rocky Mountain ski area. Tl/dr: one town, two flavors. Together, they're the chocolate and vanilla swirl cone of Colorado.
You've been eating dry cereal and ramen for months, and you're ready for the delish. Whether you're a foodie or the pickiest of picky, CSCUSA resorts have you covered. Try one of our favorites: bison burgers at Sunlight Mountain Resort or Thunderbird Tacos at Powderhorn Mountain Resort.
You're looking for a little culcha. Aspen, a town synonymous with ski culture, also has a celebrated arts scene. Fill your cup at the Wheeler Opera House or the Anderson Ranch Art Center or take in a show at Theatre Aspen and a visit to the Aspen Art Museum.
Your dorm. There's more to your vacay than just ski, sleep, rinse, repeat. (Although, no judgment here—we've all been there.) Ski or ride Telluride all day, then mingle with the locals at the base. Catch the DJ at Bon Vivant on Fridays and Saturdays or live music every day at Gorrono Ranch. Pro tip: March 15th is Telluride's 50th Anniversary bash.
You actually miss your family. Granby Ranch is the perfect ski destination for snow lovers of all ages. Think laid back, western vibes in an anything-but-flat Rocky Mountain setting. From toddlers to grandparents, there's something for snow lovers of all ages at Granby Ranch, including live music during the day and night skiing under the starlight.
You've had it with FOMO. No problem. Echo Mountain is Denver's backyard ski area. It's got everything you want, and it's just down the road. Ski all day and be back in Denver for a live show.
You've had it with Insta destinations.  Looking for an off-the-beaten-path place to kick back? If you're looking for an authentic Colorado ski area experience, you're looking for Monarch Mountain. Located just up the road from Salida, CO, what Monarch boasts in annual snowfall, it lacks in crowds. That's code for pure, untracked powder stashes, and that's code for fun.
You want to try something new. Never stood on a snowboard or skis before? We've all been there. The fastest way to get up and get going is with a lesson. Colorado Ski Country USA resorts offer lessons for groups, individuals, just the gals, or those who want to take their skills to the next level. It's a first time you can brag about to your friends. And spring is a great time to learn in the warm sunshine…and have a goggle tan to show for it.

That's ten. But wait… there's more!
Like to shop? Aspen's home to four ski resorts and world-class shopping and dining. If your interests lean more toward art and fashion,  Aspen has more of a selection that you'd believe. Salida has a historic district featuring a shop for every shopping itch and Steamboat Springs can get you outfitted like a 21st century cowhand.
Cooper and Copper may be alphabetical neighbors, but they're as different as A and Z. Cooper, an approachable family favorite mountain with soft, all-natural snow has new advanced terrain for the more adventurous skiers and riders. On the other side of the mountain, Copper is known as the Athlete's Mountain with three peaks and four bowls of downhill bliss, challenging terrain parks, and a wide array of runs, from bunny on up to those double black diamonds.
Our list is far from comprehensive, but we hear that attention spans are shorter than ever. So we'll summarize it for you: if the only mountains you've seen lately are mountains of empty pizza boxes, we can help make sure your spring break is mountains of adventure and fun. Check our Snow Report and start planning your spring break, because here in Colorado Ski Country USA, there's #AMountainForEveryone.    
Attachment
Spring Break View of Aspen Highlands
CONTACT: Sarah Beatty, APR Colorado Ski Country USA 303-837-0793 [email protected] 

Disclaimer: The above press release comes to you under an arrangement with GlobeNewswire. IndiaChron.com takes no editorial responsibility for the same.