Pilot lands Fixed Wing Carbon Cub airplane on a 78-foot diameter helipad located on top of the 56 story building
CubCrafters, March 14, 2023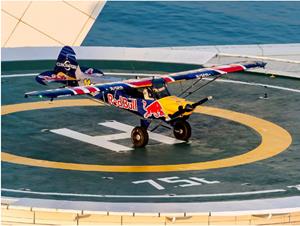 DUBAI, United Arab Emirates, March 14, 2023 (GLOBE NEWSWIRE) — via InvestorWire – CubCrafters, in collaboration with Red Bull and extreme sports promotor XDubai, has achieved an unprecedented milestone in aviation by successfully landing a fixed wing Carbon Cub aircraft on the heliport of one of the world's most iconic buildings, the Burj Al Arab hotel, in Dubai, UAE.
The Bulls Eye landing event featured Red Bull Air Race pilot and Carbon Cub owner Luke Czepiela landing a specially modified version of CubCrafters bestselling aircraft on a 27-meter wide helipad suspended 212 meters above sea level atop the 56-story hotel.
"All big moments start with little ideas powered by imagination and the desire to create something special," stated Patrick Horgan, CubCrafters' President & CEO. "Red Bull has done many projects over the years that have inspired aviators worldwide, so we were honored to join them on this project to demonstrate the incredible capabilities of the kinds of aircraft our company designs and manufactures."
As Michał Graczyk, Aviation Project Manager for the event explained, "To ensure success, we wanted the airplane best suited to the challenge, and CubCrafters was the obvious choice. They have a long history of innovation and industry leadership, relentless research and development, and an impeccable reputation for the quality of their aircraft. These attributes made us very confident in choosing them as our partner for this event."
"Throughout the years, CubCrafters' brand has grown to be synonymous with an adventure lifestyle, and giving pilots the ability to land our airplanes in the most challenging environments is core to our mission," said Brad Damm, CubCrafters' Vice President. "This project, two years in the planning and execution, really pushes the limits of what a best-of-class STOL aircraft, and an extremely capable and dedicated pilot, can achieve."
Renowned bush pilot, aviation engineer, and YouTube personality, Mike Patey, also joined the CubCrafters technical team for the project. Mike, a Carbon Cub owner himself, customized some of the aircraft's features to help ensure a successful outcome. "It was a pretty simple formula. We cut weight, changed the C.G. to increase the effectiveness of the brakes, and added extra horsepower," said Mike. "I'm really proud of how the airplane performed. The Carbon Cub was a great choice to start with, and we made it even better for this event."
"Working with CubCrafters and Mike Patey to prepare the airplane for this event has been a true pleasure," declared pilot Luke Czepiela. "During the training and preparation, I developed full confidence in the aircraft and its unique capabilities that enabled me to successfully accomplish this mission."
Full details about the project, the aircraft, and the team that pulled it off can be found at: https://cubcrafters.com/redbull
SPECIAL THANKS TO
Special thanks to His Highness Sheikh Mohammed Bin Rashid Al Maktoum, Vice-President & Prime Minister of the UAE, and Ruler of Dubai, along with the Government of Dubai, the Dubai CAA, the Jumeirah company, and the Burj Al Arab hotel for the leadership, permissions, and access necessary to make this inspiring aviation project possible.
Media Contact:
[email protected]
Corporate Communications:
InvestorBrandNetwork (IBN)
Los Angeles, California
www.InvestorBrandNetwork.com
310.299.1717 Office
[email protected]
A photo accompanying this announcement is available at https://www.globenewswire.com/NewsRoom/AttachmentNg/00b9f53c-1d15-4cf4-96d2-1454bc4989a2

Disclaimer: The above press release comes to you under an arrangement with GlobeNewswire. IndiaChron.com takes no editorial responsibility for the same.