High Concrete Earns Three National Awards for Precast Design and Quality Excellence
High Concrete Group LLC's 2023 PCI Design Award-Winning Projects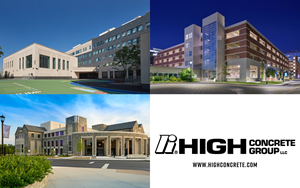 Denver, Pa., Feb. 20, 2023 (GLOBE NEWSWIRE) — High Concrete Group LLC (High Concrete) captured three prestigious national industry honors in the 2023 Precast / Prestressed Concrete Institute (PCI) Design Awards. The PCI Design Awards distinguish design excellence and construction quality using precast concrete. High Concrete won top awards in the categories of 'Best Schools K-12 Building' and 'Best All-Precast Concrete Parking Structure,' along with an honorable mention for 'Best Theater Building.' High Concrete, headquartered in Denver, Pa., is a leader in precast concrete systems, solutions and innovations from design, to manufacture and installation. PCI will present the awards to High Concrete at a ceremony in Columbus, Ohio later this month. 
Celebrating its 60th anniversary, PCI judged this year's award submissions on aesthetic, structural and use versatility; site energy and operational efficiency, and risk reduction; and resiliency, such as structure durability, multi-hazard protection and life safety and health.
"On behalf of our partners, clients, and colleagues, we are once again honored to be recognized for the industry-leading design and construction excellence of our precast concrete projects," said J. Seroky, president of High Concrete Group. "Our High Concrete team is honored to earn these marks of distinction through our collective hard work, focus on innovation and commitment to delivering consistently exceptional products."
"We are thrilled to recognize the tremendous capabilities of the precast concrete industry to meet the needs of the built environment, especially on this milestone 60th anniversary of the program," noted PCI President and CEO Bob Risser, PE. "Congratulations to all the winners, and thanks to the jurors and PCI staff who make the program a success. Through the past 60 years, the precast concrete industry continues to innovate and improve, and these exemplary projects are the latest examples of that commitment."
Details on High Concrete's 2023 PCI Award-Winning Projects
Best Schools K-12 Building: Public School 667 in Brooklyn, NY
For Public School (PS) 667 in Brooklyn, New York, the client, the New York City School Construction Authority (NYCSCA), presented a challenging request to High Concrete Group. As the first large-scale precast concrete project taken on by NYCSCA, the new school had to fit within the tight constraints of the urban setting. Even more, this design-build project had to be completed and ready for use at the start of the new school year.
See how the High Concrete team collaborated with the NYCSCA on this award-winning design-build project in the full project profile. Project Profile
Best All-Precast Concrete Parking Structure: ChristianaCare Wilmington Visitors Parking Garage
The new six-level parking structure at the ChristianaCare in Wilmington, Del., is not your typical garage. The design for the structure focuses not just on vehicle storage but also emphasizes the "people" aspect of the facility, including the needs, comfort and overall experience for ChristianaCare's clients.
"From the beginning, ChristianaCare was dedicated to using a precast concrete structural system with thin brick to match the recently completed adjacent hospital tower expansion project," recalls Damian Larkin, PE, LEED AP, Walker Consultants.
StructureCare, a subsidiary of High Concrete Group, now provides routine monitoring and preventative maintenance for the ChristianaCare Wilmington Visitors Parking Garage.
Explore the other features that make this award-winning parking structure one-of-a-kind in the full project profile. Project Profile
Theater Structure Honorable Mention: The John and Joan Mullen Center for the Performing Arts at Villanova University
Nestled in the historic urban suburbs of Philadelphia, Villanova University is one of only two Augustinian Catholic research institutions in the United States. In completing the University's master plan to balance the arts and athletic programs, Villanova sought to build a performing arts center that would give the local community an opportunity to experience new forms of art and culture, as well as a facility where theater students could experience hands-on learning.
Known for its Gothic-style architecture, the University sought to continue the aesthetic with the exterior of the new performing arts center. Traditional masonry was considered, but the project's tight timeframe and objective to minimize campus disruptions meant the University had to turn to creative methods to achieve their desired outcomes.
"Villanova's vision of this project as a community arts showcase inspired our team to bring the latest precast innovations to the project while maintaining the integrity of the University's well-established Gothic aesthetic," said Lance Lorah, vice president of design services at High Concrete. "The beauty of working with precast concrete is its incredible versatility in form and design and tremendous speed to construct over traditional building systems. We are proud to earn PCI's distinction for this beautiful University center for arts and culture."
Read how Villanova University's new performing arts center was able to coordinate with the existing Gothic architecture of the surrounding buildings, with very little disruption to the campus with the full project profile.  Project Profile
The three High Concrete Group projects recognized in the 2023 PCI Design Awards add to the company's repertoire of industry awards and speaks to its commitment to delivering consistently exceptional precast concrete products. If you are interested in building an award-winning project, contact our High Concrete Sales Team.
About High Concrete Group
High Concrete Group is a PCI-certified "AA" rated producer of architectural and structural precast concrete, committed to driving innovation, delivering quality and building trustworthy relationships.
Since 1957, High Concrete Group has served a variety of structure types, including parking, healthcare, government, office, multifamily, data center, education and mixed-use facilities. Our market reach spans throughout the Northeast, Mid-Atlantic and Midwest, with precast concrete production facilities in Denver, Pennsylvania and Springboro, Ohio.
Whether you're an architect, general contractor, construction manager or engineer, precast concrete from High Concrete Group can benefit your project in a number of ways. Our precast concrete offers design flexibility, improved safety, reliable performance, long-lasting durability and cost savings. For more information, visit www.highconcrete.com.
About PCI
Founded in 1954, The Precast/Prestressed Concrete Institute (PCI) is a technical institute for the precast concrete structures and systems industry. PCI develops maintains, and disseminates the Body of Knowledge for the design, fabrication, and construction of precast concrete structures and systems. PCI develops consensus base standards, industry handbooks, quality assurance programs, certification, research and development projects, design manuals, continuing education and periodical publications. PCI members include precast concrete producers, erectors, suppliers, professional engineers and architects, educators, students, and industry consultants who complement the wide range of knowledge of precast concrete. For more information, visit pci.org/howprecastbuilds.
###
Attachment
High Concrete Group LLC's 2023 PCI Design Award-Winning Projects
CONTACT: Krista Merkel High Companies 717-293-4545 [email protected] 

Disclaimer: The above press release comes to you under an arrangement with GlobeNewswire. IndiaChron.com takes no editorial responsibility for the same.