Children's safety advocate helps young kids discover their worth in new book from Palmetto Publishing
The Cheetah and the Sloth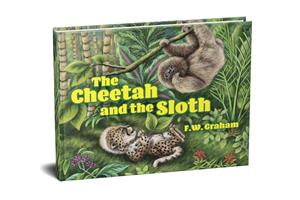 Charleston, SC, March 01, 2023 (GLOBE NEWSWIRE) — Born into a military family, F.W. Graham frequently moved as a child and often felt out of place. She began writing poetry to express her feelings and, in the process, learned a valuable lesson on fitting in. After having children of her own, she was inspired to protect not only her own children but all children and created a foundation with the sole purpose of educating children on safety and boosting self-esteem. Always envisioning creative ways to engage with impressionable young children, she has a new message of hope for anyone who has yet to find their identity.
In The Cheetah and the Sloth, Graham presents a remarkable story about self-discovery. When a newborn cheetah cub is taken from its mother by poachers, he is placed with a family of sloths. With no knowledge of his identity, he begins to behave and live like a sloth. But he can't escape the feeling that he is out of place, an unconscious instinct that leaves him feeling troubled…until the day he is rescued and reintroduced to other cheetahs. Like the young cheetah, Graham, too, felt disconnected from her identity and role but came to discover that one's environment doesn't have to dictate their life. Featuring beautiful illustrations, The Cheetah and the Sloth teaches children that identity is not defined by surroundings but rather by purpose. 
The Cheetah and the Sloth is available for purchase online at Amazon.com. For more information about the author, please visit any of her social media profiles.
Twitter: @Francin09521989
Instagram: @blkgoldpen
Facebook: Francine Graham
About the Author:
An Army veteran and child safety advocate, F.W. Graham is the founder of Keeping Innocent Daughters & Sons Safe (KIDSS), a foundation dedicated to providing children with hope and reassurance through storytelling. Prior to retirement, she worked for the Bureau of Prisons within the Department of Justice for twenty-three years. She lives in Georgia with her husband. 
Upcoming Books: 
The Cheetah and the Rabbit
The Cheetah and the Tiger
The Cheetah and the Raccoon
Attachment
The Cheetah and the Sloth
CONTACT: Leah Joseph Palmetto Publishing [email protected] 

Disclaimer: The above press release comes to you under an arrangement with GlobeNewswire. IndiaChron.com takes no editorial responsibility for the same.