Public and Private Spaces to be Lit #BlueForCRC to spread the importance of screening.
Blue Palm Trees in Tampa, FL
A simple porch light can help raise awareness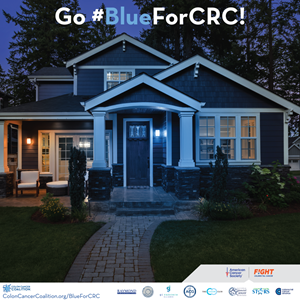 Minneapolis, March 03, 2023 (GLOBE NEWSWIRE) — In recognition of Colorectal Cancer Awareness Month, civic, public, and private buildings and landmarks across the United States are slated to go BLUE (the awareness color for colorectal cancer). In the coming days and weeks the country will rally to honor and support the nation's colorectal cancer (CRC) community, including over one million colorectal cancer survivors. Minnesota-based Colon Cancer Coalition is leading the effort with help from countless volunteers representing 11 colorectal cancer advocacy organizations.
Throughout Colorectal Cancer Awareness Month, landmarks, health care communities, and private businesses across the country will "go blue" with either lights or awareness efforts. In addition, businesses and health care facilities are encouraging employees and patients to wear blue, share information, and encourage screening for the nation's no. 2 cancer killer. Highlights include the 35W Bridge in Minneapolis, the Leonard P. Zakim Bunker Hill Memorial Bridge in Boston, George Bush Intercontinental and William P. Hobby Airports in Houston, Willis Tower in Chicago, Niagara Falls, and dozens of others. A list of landmarks, public spaces, health care facilities, and other businesses confirmed to date is available at ColonCancerCoalition.org/BlueForCRC.
"As a colorectal cancer survivor and advocate, I hope that by helping to turn my city blue it will shine a light on the importance of screening. Seeing my community support colorectal cancer patients, survivors, and their caregivers also gives me hope for the future," says Tim McDonald, Tampa, FL-resident and colorectal cancer patient. McDonald is coordinating landmarks in Tampa, FL, and working with his city and local governments to raise awareness through proclamations. "My hope is to ensure no one else has to go through what I am going through. That is why I share my story and encourage others to get screened. Since my diagnosis and through my advocacy I have become aware of over two dozen people who have had colonoscopies where they removed precancerous polyps. They credit me for saving their lives. Not many people can say they have saved over two dozen lives!" 
The goal of the #BlueforCRC campaign is to show support for patients, survivors, and caregivers and educate Americans about the importance of colorectal cancer screening starting at age 45 for average risk adults.
"Colorectal cancer is the No. 2 cancer killer for men and women in the United States, and the numbers are trending upward for adults under 45," states Chris Evans, president of the Colon Cancer Coalition. "In fact, new research from the American Cancer Society shows 20% of colorectal cancer is occurring in adults under 55, while only 20% of adults 45-49 have been screened for the disease. We hope that by shining a blue light on colorectal cancer screening and educating about signs and symptoms of the disease, we can make an impact on screening rates."
There is still time to get involved. Submit a landmark, business, or other facility going blue at any time in March through the form on the webpage. The general public is invited to participate by simply wearing a favorite shade of blue or lighting their home or businesses with blue lights, then sharing their story and participation on social media. Photos and the stories behind them should be shared using #BlueForCRC.
This initiative is supported by AliveAndKickn, American Cancer Society, American Society of Gastroenterology, Colon Cancer Stars, Colorectal Cancer Alliance, Fight Colorectal Cancer, GI Cancer Alliance, National Colorectal Cancer Roundtable, Raymond Foundation, The Colon Club, and the countless number of patients, survivors, advocates, and volunteers.
About Colon Cancer Coalition
The Colon Cancer Coalition is dedicated to encouraging screening and raising awareness of colorectal cancer. The organization's signature Get Your Rear in Gear® event series is volunteer driven in communities throughout the United States. Annually, the Colon Cancer Coalition grants over 1 million dollars to local communities to build and sustain programs promoting early prevention, screening, and research, as well as patient support efforts for those living with this disease. By making the words colon, colorectal and colonoscopy a part of everyday language, we believe we can overcome the fear and decrease deaths from this largely preventable cancer. For more information visit ColonCancerCoalition.org. 
Attachments
Blue Palm Trees in Tampa, FL
A simple porch light can help raise awareness
CONTACT: Erin Peterson Colon Cancer Coalition 6512474023 [email protected] 

Disclaimer: The above press release comes to you under an arrangement with GlobeNewswire. IndiaChron.com takes no editorial responsibility for the same.