Chaka's over 25 years of experience supports Torc's growth and safety-focused mission of leveraging autonomous trucking technology to help save lives
Michelle Chaka Joins Torc as Senior Vice President, Safety and Regulatory.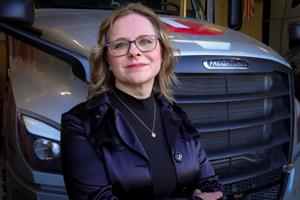 BLACKSBURG, Va, Feb. 22, 2023 (GLOBE NEWSWIRE) — Torc Robotics, an independent subsidiary of Daimler Truck AG, has named Michelle Chaka as senior vice president, Safety and Regulatory. Michelle brings over 25 years of safety and regulatory expertise to the company, having a unique mix of experience at General Motors, Ford Motor Company, Virginia Tech Transportation Institute, and most recently, Locomation. 
In her new role, Chaka will serve as the safety champion for Torc, fostering a culture that values safety, data-driven and evidence-based approaches, and transparency. She will oversee and coordinate safety across the company which includes the Safety Management System (SMS) program, regulatory compliance, and industry best practices. Important aspects of the SMS program are governance, risk management, and assurance. Chaka will serve as the chair of the Torc Safety Board (TSB) and continue to build the SMS program. Additionally, she will co-chair the Legal and Regulatory Safety Committee (LARS). Chaka will report directly to Torc's CEO, Peter Vaughan Schmidt.
"Torc is dedicated to saving lives through the use of innovative technologies. From my first conversation with the Torc team, it was evident that saving lives was more than an aspirational mission, it is a Torc core value," commented Chaka. "Serving as a champion for safety is an honor, and I am thrilled to be joining a team whose culture embodies and exemplifies safety in every aspect of the company."
Chaka's extensive experience provides a solid safety, regulatory, and engineering foundation, and she is well-versed in automated technology and data analytics. As a proven safety leader, she has delivered innovative products/programs from concept to production and worked with the larger safety community to advance safety for all road users. Furthermore, Chaka led automated driving research projects sponsored by the National Highway Traffic Safety (NHTSA) and which NHTSA published to provide the learnings to all stakeholders.
Chaka holds a master of science in Automotive Engineering Technology from the University of Michigan and a bachelor of science in Mechanical Engineering from Michigan State University. 
++++++
ABOUT TORC ROBOTICS
Torc Robotics, headquartered in Blacksburg, Virginia, is an independent subsidiary of Daimler Truck AG, a global leader and pioneer in trucking. Founded in 2005 at the birth of the self-driving vehicle revolution, Torc has 17 years of experience in pioneering safety-critical, self-driving applications. Torc offers a complete self-driving vehicle software and integration solution and is currently focusing on commercializing autonomous trucks for long-haul applications in the U.S. Torc operates test facilities in Albuquerque, New Mexico, and engineering offices in Austin, Texas, and Stuttgart, Germany. Torc's mission is saving lives with autonomous technology, which incorporates reducing highway deaths, enabling critical supplies – including medicines and foods – to reach every community in a timely manner, and helping the transportation industry increase fuel economy, uptime, and capacity.
Attachment
Michelle Chaka Joins Torc as Senior Vice President, Safety and Regulatory.
CONTACT: Laura Lawton Torc Robotics 408-505-5820 [email protected] 

Disclaimer: The above press release comes to you under an arrangement with GlobeNewswire. IndiaChron.com takes no editorial responsibility for the same.