Ed-Wozencroft-NJIT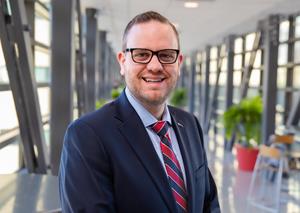 Newark, N.J., March 09, 2023 (GLOBE NEWSWIRE) — Ed Wozencroft has been appointed as New Jersey Institute of Technology's vice president for digital strategy and chief information officer, effective March 20, 2023.
Wozencroft has been serving NJIT as an associate CIO since 2021, and interim Co-CIO since August 2022. Previously, Wozencroft was director in the Higher Education Enterprise Solutions and Student Lifecycle Solutions practices at Huron Consulting Group, and provided executive-level consulting for complex R1 universities such as the University of Washington, Iowa State University and University of Miami.
"Ed has earned the respect and confidence of his colleagues while consistently demonstrating high levels of competence, creativity, collegiality and performance," said Lim. "Throughout his career, Ed has gained significant experience in the development of strategic plans, complex enterprise resource planning (ERP) implementations, process transformations, directing enterprise web services efforts, and forming high performing cross-functional teams."
Among Wozencroft's roles are the responsibility for developing, championing and implementing NJIT's technology vision, strategy and supporting roadmaps aligned with the 2025 strategic plan. He will work closely with faculty, students and technology teams to improve and innovate learning management solutions and expand online learning capabilities. Wozencroft will manage more than 100 employees and over a $35 million budget.
"Since joining NJIT, I have had the pleasure of working with an incredibly talented and dedicated IT team, and collaborating with our stakeholder communities to modernize our IT systems," said Wozencroft. "As we embark on the next chapter of our digital transformation strategy, I look forward to working together to build a human-centered digital ecosystem that enables us to pursue and achieve NJIT's mission."
Wozencroft began working in the information technology field after receiving a bachelor's degree in information systems and technology from Marist College. He earned a master's in enterprise project management from Stevens Institute of Technology and has additional educational experience and affiliations with Cornell University and Educause Institute.
As NJIT pursues enterprise management modernization efforts, his leadership and success in the delivery of complex ERP solutions at top-tier institutions demonstrates significant experience and effectiveness for this role. In addition, his institutional knowledge of NJIT during his service as an associate CIO and as interim co-CIO is a valuable asset to make an immediate impact.
"I am grateful to Ed for all he has done to date and for his willingness to accept this critical role, which supports and facilitates everything we do at NJIT," said Lim.
Attachment
CONTACT: Deric Raymond New Jersey Institute of Technology [email protected] 

Disclaimer: The above press release comes to you under an arrangement with GlobeNewswire. IndiaChron.com takes no editorial responsibility for the same.