Parker Seminars Las Vegas 2023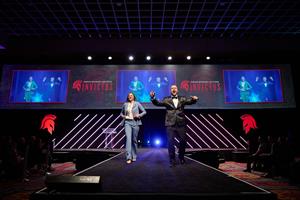 Dallas, Texas, March 07, 2023 (GLOBE NEWSWIRE) — From February 23-25, 2023, Parker Seminars presented "Invictus," a unique live experience full of inspiration, learning, and networking for the chiropractic profession! The multi-day seminar was the largest chiropractic event in the world, and it was Parker Seminars' largest event in more than two decades! 
"Invictus" was designed for healthcare practitioners to learn from notable, successful worldwide leaders. Parker Seminars provided attendees with continuing education credits, networking opportunities, a large live expo, and entertainment you can only find at a Parker Seminars event! Parker Seminars also hosted an exclusive Chateau Party in the Paris Hotel – Las Vegas's iconic Eiffel Tower! 
A Packed Schedule for Attendees
Internationally famous keynote speakers including two-time national champion and Heisman Trophy winner Tim Tebow and leadership expert and entrepreneur Ed Mylett, as well as other prestigious speakers like Robynne Chutkan, Jim Kwik, Angela Duckworth, and Anna Lembke, took the stage to share their knowledge and skills with attendees. 
Within the Expo area, the new Parker Performance Institute shared exciting information about the clinic's innovative services, technology, and therapies. Located at The Star in Frisco, Texas, the Parker Performance Institute team includes specialists who help patients with their performance, whether focused on accelerated recovery, functional improvement, or performance advancement. The clinic's professionals use their medical neurology, chiropractic, massage therapy, and nutrition expertise to provide a client-centered approach to care. To learn more about how the Parker Performance Institute makes a real difference for athletes, click here.
Additional exclusive events like book signings, the World Congress of Women Chiropractors Luncheon, the Party at the Chateau, the Expo Extravaganza, and more took place throughout the weekend. Prestigious awards were presented, including those for two retiring Board of Trustees Members, Dr. Oliver R. "Bud" Smith, and Dr. Vincent I. Scheffler. "Patient of the Year" was awarded to Marine Corporal Michael Jernigan, "Heroes and Legends" went to Dr. Thomas C. Michaud, and Dr. Raul Carrillo was named "DC of the Year." Parker Seminars recognizes and thanks these individuals for their tremendous work and selfless service.
Will We See You Next Year?
We can't wait to see you in the fabulous city of Las Vegas again in 2024! Parker Seminars has outgrown the space at the Paris Hotel – Las Vegas and will host 2024's Las Vegas seminar at Caesar's Forum. Ready to register for next year? Click here for our special event pricing!
Upcoming Parker Seminars Events
From June 9-11, 2023, Parker Seminars will host its next live "Invictus" event at the Gaylord Palms Resort and Convention Center in Orlando, Florida. Don't miss the chance to be part of an experience you can't find anywhere else. You can take advantage of early-bird pricing and easily register for this event by clicking here!
About Parker University
Parker University, the fourth-fastest growing college in Texas and the fastest-growing college in Dallas, was founded in 1982 by Dr. James William Parker (formerly Parker College of Chiropractic). Today, Parker University has more than 1,800 students and more than 35 academic programs, including its famed chiropractic program, as well as master's degrees in neuroscience, clinical neuroscience, strength and human performance, and functional nutrition. Currently, Parker University's chiropractic cohort is the second largest of any campus in the world. Parker University has been recognized as a Great College to Work For®, one of the 25 Fastest-Growing Colleges in the U.S., and as a recipient of the 2021 FutureEdge 50 Awards.
Attachment
Parker Seminars Las Vegas 2023
CONTACT: Christine Perrenot Parker University [email protected] 

Disclaimer: The above press release comes to you under an arrangement with GlobeNewswire. IndiaChron.com takes no editorial responsibility for the same.