Philips MR5300 in use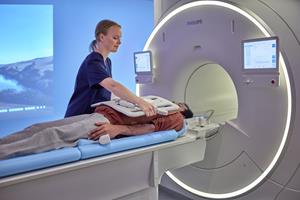 Refurbishment process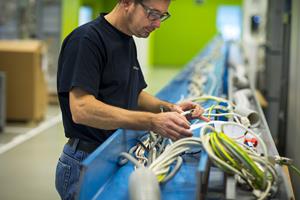 February 21, 2023
1.81 billion lives improved by Philips' health technology products, services and solutions
Philips became the first health technology company to obtain approval by the Science Based Targets initiative (SBTi) for its entire value-chain CO2 emissions reduction targets, including Scope 1-3
Continued recognition for sustainability leadership – received CDP's 'A List' rating for 10th year in a row
Actively engaging with suppliers and customers to help reduce emissions across the end-to-end healthcare value chain
With 77% renewable energy usage, Philips is well ahead of its 2025 goal

Amsterdam, the Netherlands – Royal Philips (NYSE: PHG, AEX: PHIA), a global leader in health technology, has made strong progress towards realizing its key Environmental, Social, and Governance (ESG) ambitions. In 2022, Philips reached 1.81 billion people with its products and services, while further reducing operational emissions, and indirect (scope 3) emissions across the end-to-end healthcare value chain, together with its suppliers.
"We continue to move closer to our aim of improving 2 billion lives per year by 2025, while stepping up our sustainability efforts in our operations and value chain," said Marnix van Ginneken, Chief ESG & Legal Officer at Royal Philips. "The growing momentum across the healthcare industry and among customers to reduce our collective environmental footprint encourages us on a daily basis as we continue to strive to reduce emissions across the end-to-end healthcare value chain and drive the shift to a circular economy."
Increasing social impact
Illustrating the company's increasing social impact, Philips' health technology products, services and solutions improved 1.81 billion lives (1.67 billion in 2021), of which 202 million in underserved communities. This takes Philips closer to its goal of improving 2 billion lives per year by 2025, with 300 million in underserved communities. In 2022, improved access to care in underserved communities was driven by shared-value partnerships, the development of innovative digital solutions, and the roll-out of new business and financing models that are both sustainable and scalable.
Other key developments within the social dimension include a 30% representation of women in senior leadership roles, increased focus on employee health and well-being (both physical and mental health), and continued emphasis on ensuring a safe and healthy workplace.
Creating sustainable innovations
In 2022, the contribution from circular revenues increased to 18% of sales (2021: 16%). In 2022, Philips saw 10% more returns of large medical equipment compared to 2021 and closed the loop on more than 3,500 systems. Additionally, consumers started to make use of the newly introduced options to rent a Philips Avent breast pump or IPL Lumea hair removal device.
EcoDesigned products and solutions increased their revenue contribution to 71.7% (2021: 70.5%), supported by grooming and beauty products that contain over 25% recycled plastics and Oral Healthcare introducing its first brush heads containing 75% bio-based materials. Demand for sustainable healthcare systems is supported by the MR 5300 with its industry-leading BlueSeal magnet, helping radiology departments massively reduce the need for scarce helium gas.
Reducing operational emissions and waste
In addition to remaining carbon-neutral in its operations (since 2020), Philips achieved 77% (2021: 74%) renewable energy usage, exceeding the 75% goal for 2025. It also reduced transport- and distribution-related CO2 emissions by 22% through a stricter air-freight policy and optimized warehouse locations.
Philips improved the circularity of its waste stream to 91% (2021: 87%), increasingly recycling, re-using or reducing waste. An example is the replacement of single use plastic in supplier packaging with boxes that can be used repeatedly. As a result, less than 0.1% of the remaining operational waste was land-filled, in line with our zero-waste to landfill ambition.
Philips is also proud that CDP, a global NGO that assesses the CO₂ emissions performance and management of reporting companies, ranked Philips on the CDP Climate Change 'A' List for the 10th time in a row, thanks to the company's continued climate performance and transparency.
Advancing towards low-carbon operations and value chain
In 2022, Philips became the first health technology company with approval from the Science Based Targets initiative (SBTi) for its entire value-chain CO₂ emissions reduction targets, including Scope 1-3. In addition, 41% of suppliers (based on spend) have now committed to science-based targets (2021: 28%) – Philips' goal is 50% by 2025.
Progressing in governance
Philips' commitment to responsible and transparent governance is illustrated by the publication of the Philips Human Rights Report 2022, in which Philips updated stakeholders on its progress in addressing key human rights over the past year, along with plans for continuous improvement.
Philips continues to take an active role – in collaboration with global institutions such as the International Financial Reporting Standards (IFRS) Foundation, the World Economic Forum (WEF) and the European Union – to help drive the evolution towards a standard global ESG reporting framework.
For a full overview of Philips' Environmental, Social, and Governance achievements, read chapter 5 of the Philips Annual Report 2022, which was published earlier today.
For further information, please contact:
Ben Zwirs
Philips Global Press Office
Tel.: +31 6 1521 3446
E-mail: [email protected]
About Royal Philips
Royal Philips (NYSE: PHG, AEX: PHIA) is a leading health technology company focused on improving people's health and well-being through meaningful innovation. Philips' patient- and people-centric innovation leverages advanced technology and deep clinical and consumer insights to deliver personal health solutions for consumers and professional health solutions for healthcare providers and their patients in the hospital and the home. Headquartered in the Netherlands, the company is a leader in diagnostic imaging, ultrasound, image-guided therapy, monitoring and enterprise informatics, as well as in personal health. Philips generated 2022 sales of EUR 17.8 billion and employs approximately 77,000 employees with sales and services in more than 100 countries. News about Philips can be found at www.philips.com/newscenter.
Attachments
Philips MR5300 in use
Refurbishment process

Disclaimer: The above press release comes to you under an arrangement with GlobeNewswire. IndiaChron.com takes no editorial responsibility for the same.