Maintains power for core functions even in the event of a vehicle system malfunction
ROHM's BD7xxL05G-C series of primary LDO regulators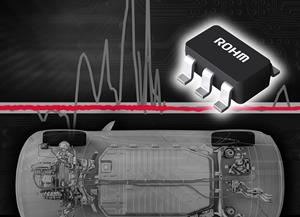 Input Transient Response Characteristics & Comparison of Board Area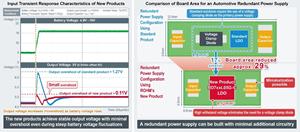 Santa Clara, CA and Kyoto, Japan, March 01, 2023 (GLOBE NEWSWIRE) — ROHM Semiconductor today announced the new BD7xxL05G-C series of primary LDO regulators (BD725L05G-C, BD730L05G-C, BD733L05G-C, and BD750L05G-C) featuring a rated input voltage of 45V and 50mA output current optimized for redundant power supplies that are increasingly being used in automotive applications to improve the reliability of vehicle power systems.
In recent years, the evolution of ADAS (Advanced Driver Assistance System) and other safety measures has required improved reliability for systems that supply power to these applications. As a result, redundant power supplies that can continue to operate core functions (sub-MCUs), even in the event of a main system malfunction, are being increasingly incorporated in automotive power supply system. As redundant power supply circuits are added to conventional systems, they must necessarily be space-saving and consume low power. ROHM's new products can be used as primary power supplies by taking advantage of original power supply technology accumulated over many years.
The compact (2.9mm × 2.8mm) BD7xxL05G-C series meets key requirements for building redundant power supplies by providing high withstand voltage (max.=45V) with low current consumption (6.0μA typ.). At the same time, leveraging ROHM's strengths in analog technology ensures stable output voltage even during steep battery voltage fluctuations. Unlike standard products with an overshoot of almost 1.3V that requires a large output capacitor to prevent the rated voltage of downstream devices such as sub-MCUs from being exceeded, ROHM LDOs limit voltage overshoot to just 0.1V, supporting much smaller output capacitors. Together with elimination of the voltage clamping diode, this reduces board area by approximately 29% over general solutions while minimizing the number of additional circuits needed to configure redundant power supplies. High resistance to disturbance noise is also achieved (shown to eliminate output voltage fluctuation at all frequencies during ISO 11452-2 antenna irradiation testing), reducing the design load for noise countermeasures.
Going forward, ROHM will continue to contribute to improving automotive reliability by developing products utilizing its strengths in analog and other technologies.
Product Lineup
The new BD7xxL05G-C series meets basic requirements, such as a compact size, support for 125°C (ambient temperature) operation, qualification under the AEC-Q100 automotive reliability standard, and low current consumption demanded of automotive redundant power supplies. What's more, they can be used as primary power supplies (45V rated input voltage) despite their small size, with a lineup that makes it possible to select the ideal solution according to the downstream device (i.e., sensor, MCU).
These LDOs are also highly resistant to disturbance noise, suppressing output voltage fluctuations to less than 50mV (<±1%) over the entire frequency band under ISO 11452-2 antenna irradiation testing, reducing the number of manhours required for noise countermeasures.
View the product specifications here.
Application Examples
In addition to redundant power supplies, the space-saving, low power consumption design makes these LDOs ideal for applications that operate when the engine is stopped.
Brake systems
Electric power steering
ADAS ECUs
Driver recorders
Body control modules
Battery control units
Real-time clocks
Door handle modules
Sales Information
Availability: Now (in mass production)
Online distributors: Digi-Key, Mouser, and Farnell (scheduled for release at additional online distributors)
Part numbers: BD725L05G-C, BD730L05G-C, BD733L05G-C, BD750L05G-C
Attachments
ROHM's BD7xxL05G-C series of primary LDO regulators
Input Transient Response Characteristics & Comparison of Board Area
CONTACT: Travis Moench ROHM Semiconductor 858.625.3600 [email protected] Heather Savage BWW Communications 720.295.0260 [email protected] 

Disclaimer: The above press release comes to you under an arrangement with GlobeNewswire. IndiaChron.com takes no editorial responsibility for the same.