Acclaimed cozy mystery series from Palmetto Publishing returns with fifth installment
How to Survive Ghosts, Debts, and Marionettes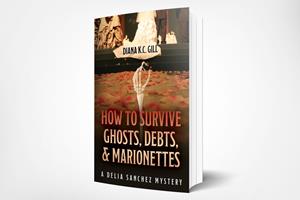 Charleston, SC, Feb. 21, 2023 (GLOBE NEWSWIRE) — We all know planning a wedding is inherently stressful. Tack on an uninvited guest and a murderer on the loose, and one could argue it has the makings of a disaster. But that is exactly the scenario facing Delia Sanchez, the female star of author Diana K. C. Gill's acclaimed cozy mystery series. As the manager of a haunted hotel, Delia is no stranger to mayhem, but this level of pre-wedding jitters is sure to send her meticulous organization into a tailspin. In her latest installment, Gill humorously considers the ill effects of wedding stress amplified by the arrival of an ex-wife and a murderer in the midst. 
In How to Survive Ghosts, Debts, and Marionettes, Delia is busy preparing for the arrival of some special guests as well as for her impending nuptials to her fiancé Gabe. The delightfully haunted Loring Hotel is hosting a group of cancer survivors who are reuniting to raise funds for the financially strapped hospital where they underwent a lifesaving cancer drug trial twenty years ago. But as is the case in any ghost haunt, there is bound to be some mischief. And when Gabe's ex-wife shows up, it isn't long before the trouble ensues. After a hooded intruder threatens Delia's cat Esmeralda and botches two murder attempts resulting in the death and near death of two guests, it's clear a murderous plot is afoot, leaving Delia to figure out why someone is trying to get rid of Esmeralda before her wedding day is ruined. Fans of the series will delight in another one of Gill's blithely spooky capers.
How to Survive Ghosts, Debts, and Marionettes is available for purchase on Amazon.com and BarnesandNoble.com. 
About the Author:
Diana K. C. Gill is an academic writer on military topics. She enjoys writing mysteries in her free time. How to Survive Ghosts, Debts, and Marionettes is the fifth book in the Delia Sanchez mystery series.
Attachment
How to Survive Ghosts, Debts, and Marionettes
CONTACT: Leah Joseph Palmetto Publishing [email protected] 

Disclaimer: The above press release comes to you under an arrangement with GlobeNewswire. IndiaChron.com takes no editorial responsibility for the same.